Dedicated to inspire and guide.
With deep experience and a wealth of talent, the EDGE™ team is known as much for our collaborative relationships as our collective success. And under the management of Diamond Custom Homes, we bring the same level of integrity, passion and quality you've come to expect from Diamond.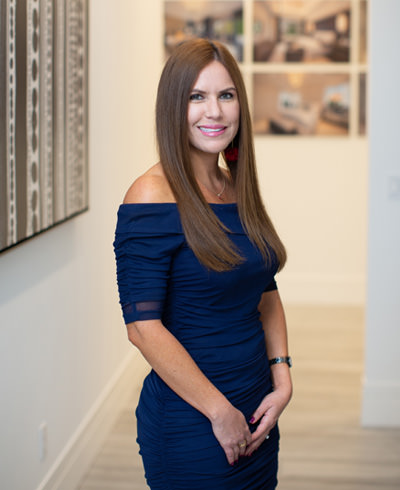 Karen Velasco-Carter
Director of Architectural Services | Lead Cabinet Designer
As Director of Architectural Services, Karen Velasco-Carter plays a vital role in the EDGE process. Karen works with clients to help bring their vision to life, whether that is custom cabinetry or reconfiguring a space within their home. She is a cabinet designer as well as a space creator, and when it comes to remodeling, she is the one designing the new space. With a bachelor's degree in architecture and previous experience as an architectural designer for two prominent design studios, Karen has over a decade of industry experience. She is also an AIA associate and a certified general contractor. She spends her free time with family, traveling, playing tennis and dancing.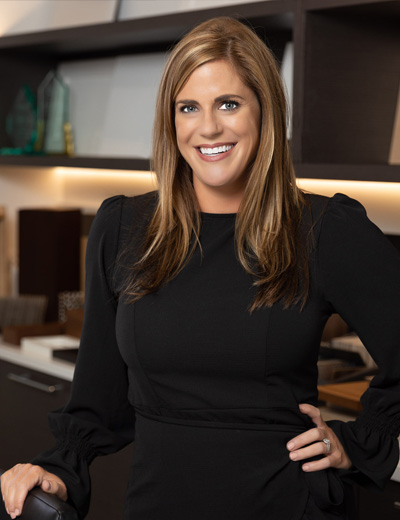 Adriene Ged
Director of Interior Design
With a bachelor's degree in interior design from Georgia Southern, Adriene has worked with notable home builders in Florida. Her projects include both renovations and award-winning custom homes. Knowing how a client lives helps her balance individual aesthetics with functionality. Her lifestyle approach to design results in layered, textured spaces that feel unique, sophisticated and welcoming. Outside of work, she can be found relaxing by the lake or watching her children's sporting events.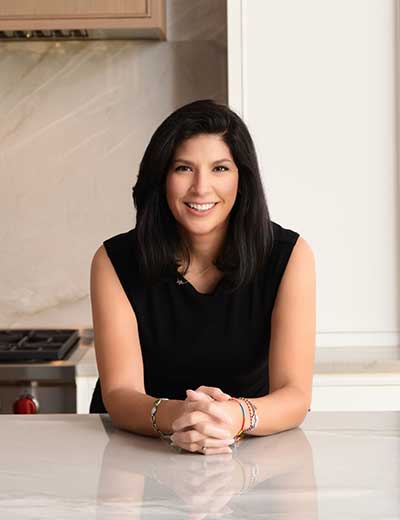 Krystal Matrishion
Cabinet Designer
Krystal Matrishion brings over 20 years of experience in custom cabinetry to EDGE. She started her career in remodeling, working closely with family of whom are master woodworkers. During this time Krystal gained vast knowledge in the engineering and construction of cabinetry. With her expertise Krystal can design and execute high-end cabinetry and adapt quickly to new techniques and trends. As a Cabinet Designer Krystal is responsible for working with clients to create forward thinking designs, create 3D renderings and managing each project from start to finish. In her free time Krystal enjoys watching her children's sporting events and traveling with her family.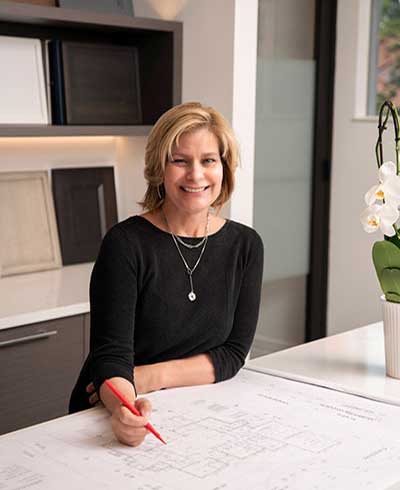 Luann Powers-Gliwski
Interior Designer
Luann Powers-Gliwski has been creating unique interior spaces for the last 20 years. Luann strives to create thoughtful and timeless interiors. When working with her clients she considers every detail, from the architectural elements to the layout of each space. Her dynamic and detailed approach is a great addition to our growing interior design division. Luann is a NCIDQ certified, Florida licensed interior designer.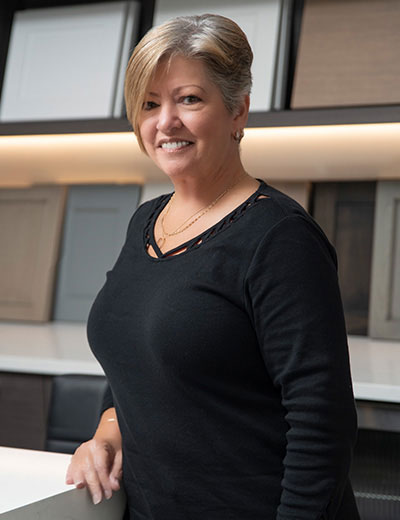 Alecia Thompson
Cabinet Designer
Alecia brings over 20 years of experience to EDGE. Throughout her career Alecia has mastered every detail that goes into cabinetry design from meeting with clients, designing custom cabinetry to installation and project management – Alecia can do it all! As a cabinet designer she will play a vital role in collaborating with the EDGE team in cabinet and closet design and production; keeping up to date on project drawings and orders, allowing for a seamless process from start to finish.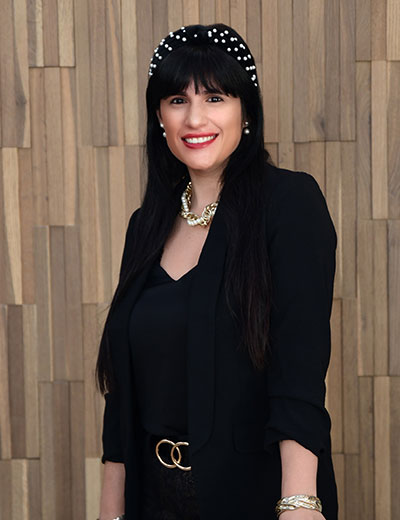 Belle Fortte
Interior Designer
Belle is a dedicated professional with more than 10 years of experience in all stages of Design. She comes to EDGE with an extensive background in luxury residential, hospitality and commercial interiors, architectural design, and interior design project management. Fully proficient in English and Spanish, she earned a Bachelor's degree in Architecture from the National University of Mar del Plata, Argentina. In her role as Interior Designer, Belle is responsible for creating sophisticated, functional, safe, and aesthetically pleasing designs by assessing space requirements, conceptualizing, and sketching plans, selecting finishes and fixtures, determining optimal furniture placement, sourcing and procuring decorative pieces, all while adhering to relevant blueprint, building code, and inspection requirements.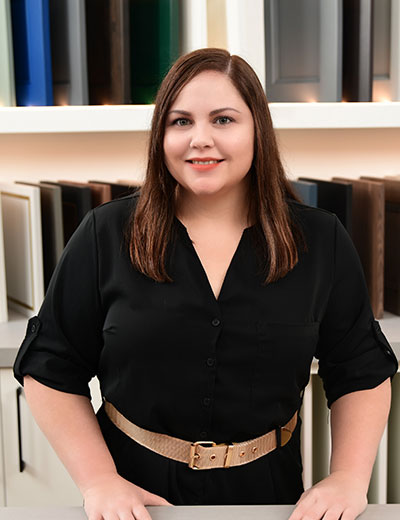 Hailey Whewell
Cabinet Designer
Hailey Whewell has nearly 10 years of experience in high-end residential and commercial cabinetry. She has created custom cabinetry for a wide range of clients such as builders, contractors, interior designers, and homeowners. As a cabinet designer, Hailey is responsible for working with clients to bring their design goals to life. She collaborates in the design and production of cabinetry, as well as creates 3D renderings and so much more. She strives to create something unique for each client. Her favorite quote is, "Learn the rules like a pro, so you can break them like an artist." -Picasso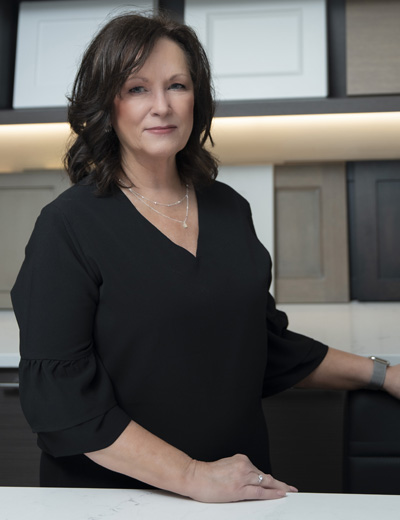 Liz Bartlett
Interior Design Project Coordinator
Liz is the Interior Design Project Coordinator at EDGE. She has many years' experience in public relations, residential real estate, event management, project management, home staging and administration.
Liz started her career in public relations and event management in the California wine industry. After many years in the wine business and a desire to own her own business, Liz opened a salon and spa in upper Napa Valley. From the design and remodeling process of her salon, grew a desire to work in interior design. Liz holds a Florida real estate license, but a passion for home interiors has led her to EDGE as our interior design project coordinator. As the interior design project coordinator, Liz is responsible for material pricing and ordering, delivery, and installation assistance; scheduling subcontractors, vendors, and internal deliveries; project installation and punch list item assistance. She also assists with client presentations, obtains materials and finish samples and manages the 3,000 square-foot showroom and design studio.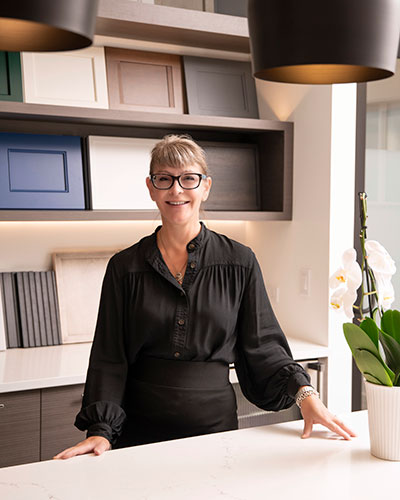 Johanne Vincent
Interior Design Project Coordinator
Johanne Vincent was raised in Quebec, Canada and went to fashion and textile school in Montreal. She traveled the world while working in the fashion industry for over 25 years. Johanne then went into interior product design for seven years, and eventually moved to Naples where she worked at Robb & Stucky, K2 Design and Romanza. Her design experience makes her perfect for the interior design project coordinator role where she provides administrative and clerical support to the interior design team including maintaining vendor relationships, client proposals, order materials, assistance with installations and client presentations.
Tiffany Imbert
Cabinetry Project Coordinator
As the cabinetry project coordinator Tiffany plays a key role in ensuring our cabinetry team runs efficiently. She is responsible for the administrative and clerical support to the cabinet designers and installation team, oversees cabinetry, hardware, and installation contracts, maintains vendor relationships, ensures the showroom has current cabinetry samples and assists with billing clients. In her free time, you will find Tiffany freediving and enjoying nature.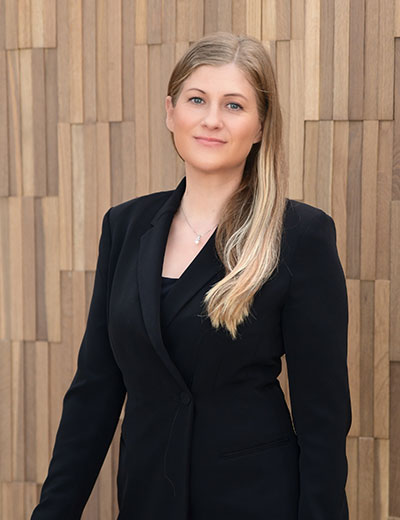 Angela Fronto
Office Manager
Angela Fronto is the Office Manager at EDGE. In her role, Angela greets showroom visitors and engages with prospective clients; manages and organizes the showroom while maintaining showroom resources; coordinates & supervises office related maintenance, meetings and events. Wherever the EDGE team needs support, Angela is there to help! Angela is fluent in both English and Hungarian and has a degree in law.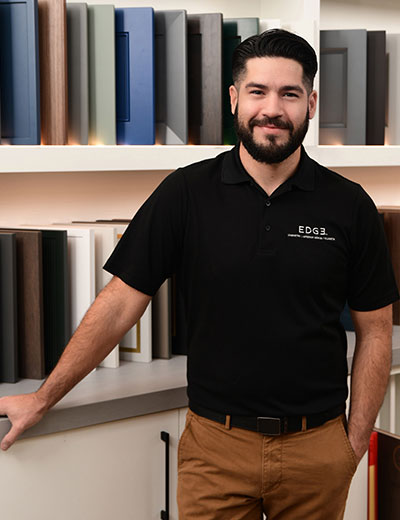 Cruz Olivarez
Assistant Project Manager
As the assistant project manager, Cruz plays a vital role in ensuring cabinetry is installed seamlessly. His daily responsibilities include supervising field deliveries and installs, maintaining quality control, reviewing plans and scheduling work. Cruz comes to us with experience in both custom cabinetry and closets making him a perfect fit for this role.